Written By: Skylar N. Semons
More than a decade ago, a remarkable and inspiring initiative took root in the heart of Central Florida. It was conceived with a noble mission – to transform the lives of local youth, engaging them with their community and molding them into better citizens. Florida Kids Helping Kids (FKHK), founded by Gerri Gerthe in 2012, has brought positive change in the lives of countless children and the entire community. Gerri shares that the motivation behind launching this initiative was the scarcity of engaging activities for the children in the area, and her determination to provide every child with a constructive outlet for their energy and creativity.
According to the organization's Facebook page, FKHK's primary goal is to "provide at-risk youth
activities that they enjoy while helping others." This dual-purpose initiative not only keeps kids occupied in productive pursuits but also instills in them the values of compassion and community service from an early age.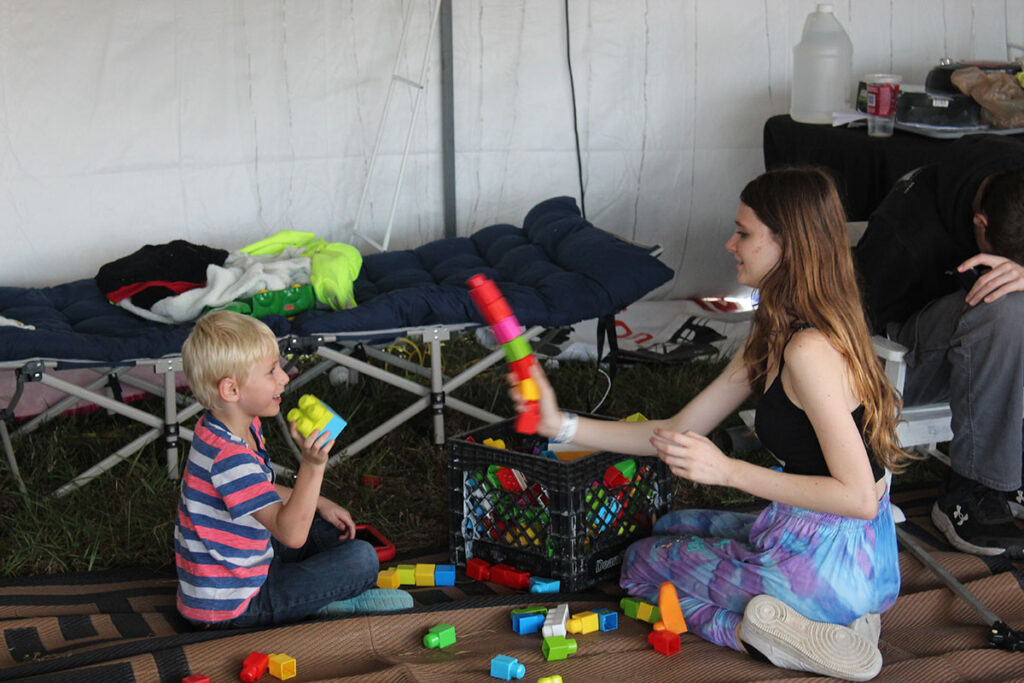 Florida Kids Helping Kids has members of all ages. Pictured above are two club members playing with blocks while awaiting the start of the Marion County Fair.
What sets FKHK apart is its reliance on a dedicated team of volunteers who generously devote their time and efforts to the cause. Gerri emphasizes that "nobody receives a paycheck for what we do." The organization thrives on the commitment of adult volunteers, children, and sometimes even their parents, who support the cause with their hard work. Gerri says that, it's not just about dropping off your child and leaving." Florida Kids Helping Kids actively encourages entire families to get involved.
Beyond adult volunteers, FKHK has a Junior Board of Directors, composed of the children themselves. Tish approach allows the young participants to have a say in which events they wish to partake in. Some of the annual highlights include the Marion County Fair, the Marion County Fair Pageant, the Christmas Parade, Christmas Sibling Shopping, and providing meals to the homeless during the holiday season. Among these, the Christmas Sibling Shopping event stands out as a favorite among the children. This event, in particular, allows kids from less privileged families to select gifts for their siblings, fostering the spirit of giving during the holiday season.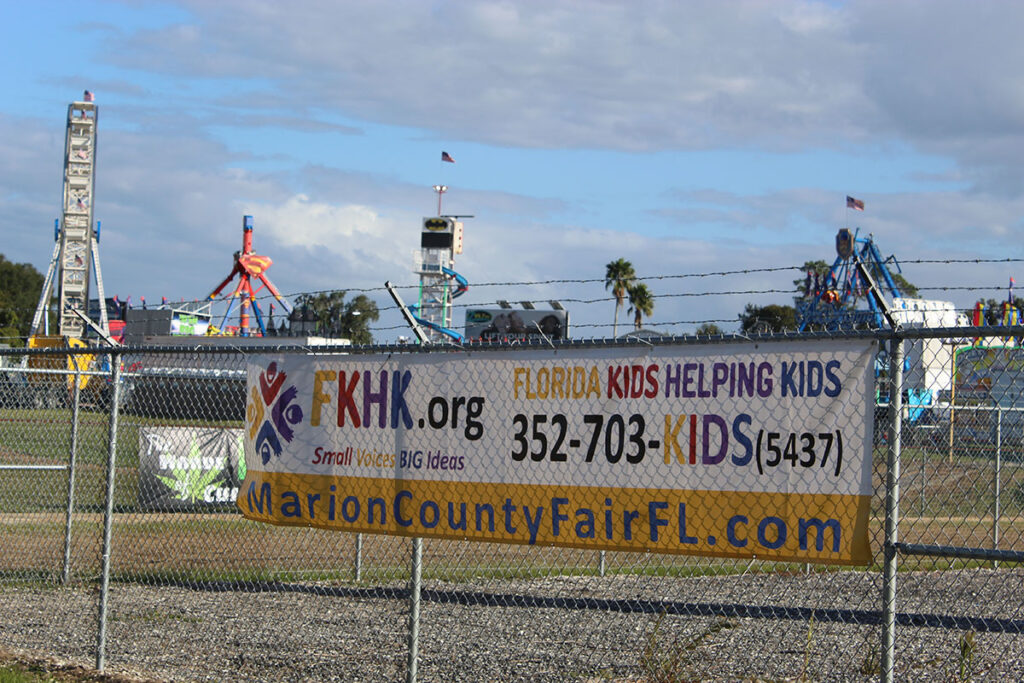 Pictured above is a banner at the entrance of the Marion County Fair. Gerri Gerthe advises that the Marion County Fair is hosted and sponsored by FKHK.
Florida Kids Helping Kids goes beyond normal club activities. On the organization's website, they
tell the story about one of their students named Tyler that was diagnosed with bone cancer. "Our youth group swung into action and we started shifting fund raising for a cause we knew to a kid that they knew they could help. Soon the community joined on board with our team and Tyler not only had a walk-in shower, but a car and computer as well so he could be connected to more than just doctor visits. This made our youth group feel needed and they voted to become a nonprofit so we could help our community and other kids in need."
However, the measure of Florida Kids Helping Kids' success goes beyond the impact on the community; it lies in the transformation of the children themselves. Often referred to affectionately as "Grandma" by the children, Gerri Gerthe and her team of volunteers have witnessed numerous positive changes in the kids involved in the club. As Gerri reflects, "We had a child that went from struggling in school, to disruptive bad behaviors, now on the A-B Honor Roll, into leadership classes." The stories of transformation do not stop there. Sandi, another dedicated volunteer for FKHK, shares, "We have had a couple of kids that were on the verge of going into juvie, and because they have been mentored by older children, they're shown what they were doing was wrong." Florida Kids Helping Kids, through its mentorship and guidance, is nurturing the leaders and responsible citizens of tomorrow.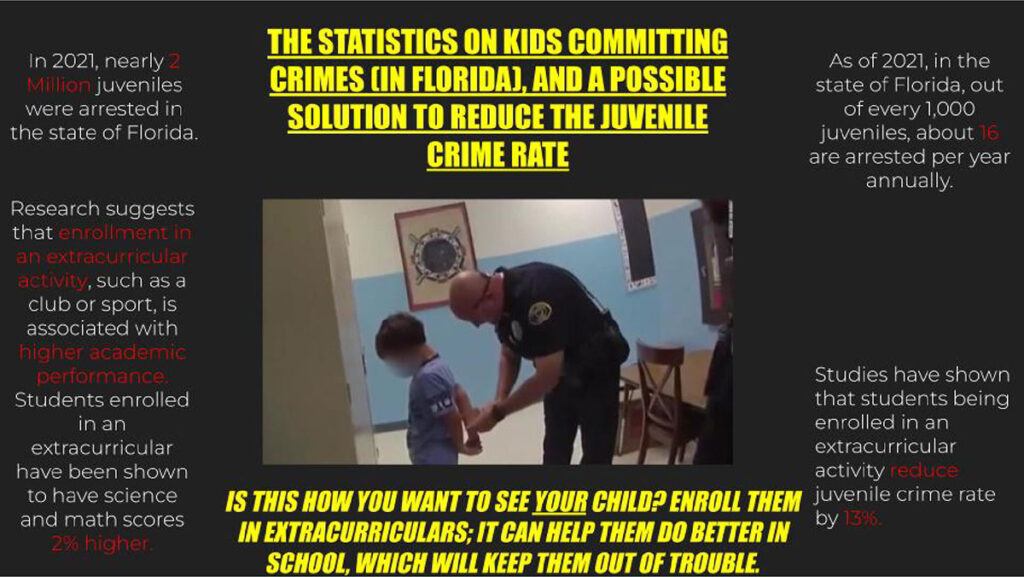 In the state of Florida, juvenile incarcerations are at an all-time high. Research suggests that children who are enrolled in an extracurricular activity perform better in their academics. When children are exceling in their academics, and are committed to being involved in a club or sport, for example, they do not have the time to be delinquent.
Child safety can be a significant concern for parents when enrolling their kids in extracurricular activities. Florida Kids Helping Kids prioritizes the safety and security of the children. When asked about what precautionary measures are in place for safety, Gerri emphasizes that the children are always under constant supervision, and for any indoor activities, there is constant video surveillance.
Additionally, the organization maintains a strict policy of never allowing a child to be alone with a single adult volunteer; there are always at least two adults per group of children, as both Gerri and Sandy point out.
As with any initiative or organization, there are often some obstacles along the way. Gerri points out the continuous struggle to secure volunteers. She also mentions it is difficult to book land and/or venues to host their events, as the organization does not own its own piece of property. To overcome these hurdles, FKHK has set a goal to raise enough funds to purchase anywhere from 50 to 100 acres of land. With this sizeable piece of property, they can continue to sponsor the Marion County Fair, collaborate with other nonprofit organizations, and have a permanent space for the club's activities, ensuring the longevity for the organization and their mission.
If you are interested in supporting Florida Kids Helping Kids, there are several ways to get involved. The organization is continually seeking volunteers, and you can find more information on volunteer opportunities on their website at https://fkhk.org/contact/. Additionally, you can contribute to their cause by making a donation at https://fkhk.org/donate/. FKHK accepts donations of any kind, whether it is financial support, used toys, craft supplies, or, as Gerri suggests, even "old scrap pieces of wood" because, as she emphasizes, "every little thing counts." Your support can help FKHK continue to shape the future and transform the lives of the youth and the community for many more decades to come.
References:
Florida Kids Helping Kids. (2023). https://fkhk.org/
Semons, S. (2023). FKHK Playing with Blocks. photograph.
Semons, S. (2023). FKHK Banner. photograph.
Provide opportunities for children and Youth. Office of Juvenile Justice and Delinquency
Prevention. (n.d.). https://ojjdp.ojp.gov/sites/g/files/xyckuh176/files/action/sec4.htm
Arrests, aged 10-17 years. FLHealthCHARTS.gov. (2021).
https://www.flhealthcharts.gov/ChartsDashboards/rdPage.aspx?rdReport=NonVitalIndNoGrp.Dataviewer&cid=9769
Christison, C. (2013). The Benefits of Participating in Extracurricular Activities . BU Journal of
Graduate Studies in Education, 5(2), 17–20.
https://files.eric.ed.gov/fulltext/EJ1230758.pdf
Levenson, E., & Burnside, T. (2020, August 12). Key west police arrested an 8-year-old at
school. His wrists were too small for the handcuffs. CNN.
https://www.cnn.com/2020/08/11/us/8-year-old-boy-key-west-arrest-trnd/index.html